Downloading and installing the Princh Cloud Connector on a printer server running a Windows operating system
The Connectors menu in the Administration Panel enables admin users to create and download connectors. A connector is an instance of the Princh Cloud Connector service that enables admin users to connect local physical printers to Princh via the Administration Panel. It also enables admin users to change printer configuration or replace a physical printer without involving Princh Support.
Each connector created via the Administration Panel is unique and can only be installed on one printer server. Hence, if you have multiple printer servers as part of your Princh solution, each will need to have a unique connector installed.
If you are installing a new connector on a printer server that has already had a connector installed please refer to THIS guide to properly uninstall the previous connector first.
How to set up the Princh Cloud Connector?
Note: This setup must be done on a computer that will act as a printer server for your Princh solution and that does not already have a connector installed. Anytime you expect users to be printing on the associated printers, this server should be online and connected to the internet.
1. Access the Connectors menu tab
Log in to the Admin Panel with an admin user account.
Click the 'Connectors' menu tab.

2. Create a connector
In the top right, you will see a 'Create Connector' button.

Click this button. Then name the created connector after your preferred naming convention e.g location name or server name.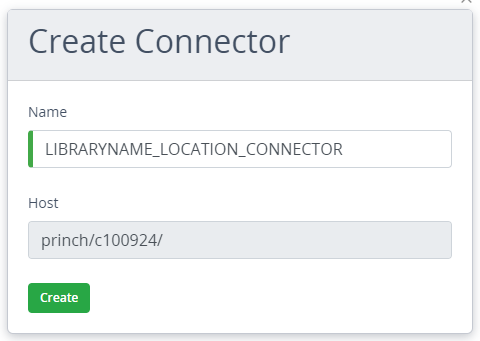 Click "Create".
3. Download and install the connector
On the top of the newly created connector, there is a "Download Installer" Button.

Click this to download the connector installer locally to your printer server.
Right-click the downloaded file and run it as administrator. When the installation process completes successfully, the connector is ready for use.
Watch the newly created connector in the Admin Panel turn from red to orange and the status change to a green tick as it starts up on your printer server.
All done. For instructions on how to add and configure printers on a connector, please refer to THIS guide.
If you need help, please contact support@princh.com